March 3, 2021 6:11 pm | Category: HR, ROOK Connect Software
Human Resources Excellence
by: Jennifer Hardy
In today's modern world, it's no secret that the integration of technology into human resources is changing how companies manage their employees. There are plenty of misconceptions about HR dedicated software solutions that can cause a company leader to overlook its value. In this article we'll show you how ROOK Connect can facilitate, simplify and streamline your HR processes, becoming an integral part of how you do business. 
ROOK Connect is HR automation done your way. Our tools will give you the power to manage your team, no matter its size. Just starting out? Think HR software is only for large corporations? Today, companies of all sizes enjoy the benefits of automation. It's a valuable tool that gives you real-time access to the most up-to-date information. As your company scales, you'll have the data you need to readily predict and address the issues that will surface when managing a growing team.

Just a few HR processes that ROOK Connect can support:
Applicant Tracking: Automated processes that match your requirements.

Qualification Assessments: Remotely accessible third party applications, alerts and tracking.

New Hires and Orientations: Digital forms, manuals, videos and presentation materials with digital signature applications.

Training and Quizzes: Easily managed training and quizzing with automated reporting and right fit certifications.

Culture Matching: Ensure the right people are in the right positions – match people to processes and business needs.

Compliance Standards: Ensure your business is protected with accurate reporting and remote alerts.

Compensation and Payroll: Staff rate cards, profile essentials, comparative analysis and automated payroll approvals and reporting.

Performance Management: Real-Time Key Indicators (KPI): Tracking, analytics and reporting essentials that match your requirements.
Empower your business with ROOK Connect's complete start to finish HR management process tool that not only simplifies; but makes HR easier. It's not just HR professionals that will benefit from the implementation! ROOK Connect is built around the concept of making employee management processes more efficient for your entire workforce. Your entire team will appreciate having greater control over managing and accessing their own information without having to pass through HR every time, as ROOK Connect keeps all your staff details securely available in one location. With an optimized user interface, your staff will relish the ability to access essential information and complete required forms digitally. 
You'll be up and running in no time as ROOK Connect provides the structure and templates needed to get your HR processes set up the way you want them right out of the box. With configurable tools, easy to manage follow ups, content distribution and completion tracking, your business will not only save time; you'll save money by ensuring your staff have the tools and information needed to be successful.
Time Tracking with ROOK Connect – all the essential information at your fingertips: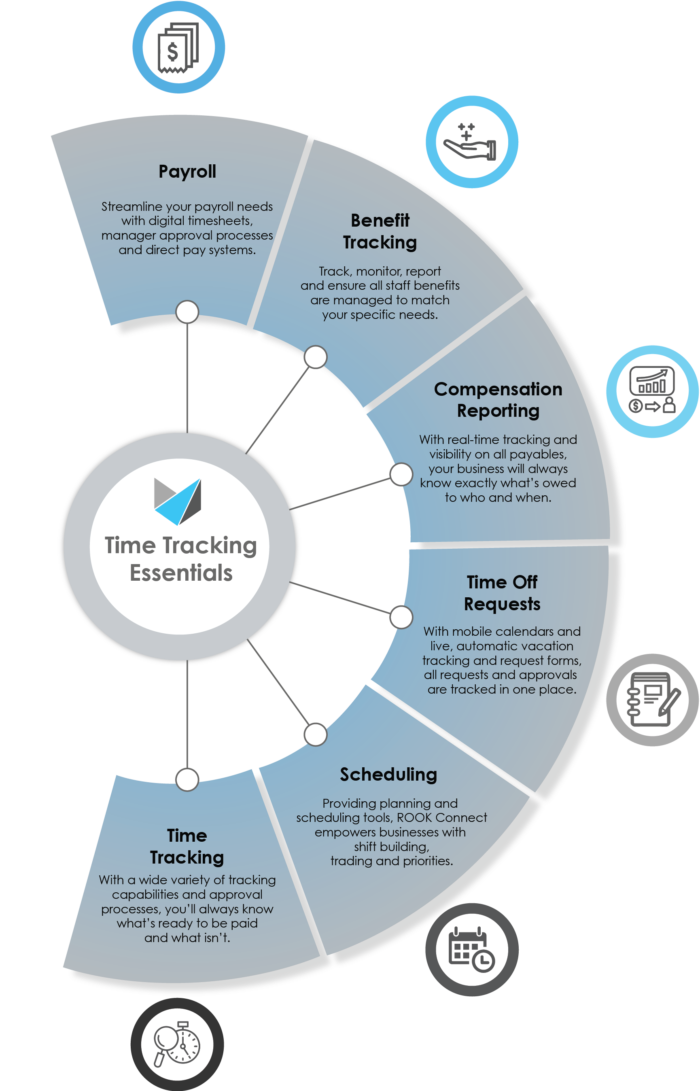 A few key features of ROOK Connect:
Any Device, Any Time:

With secure, remote access to the ROOK Connect platform, your team will have access to all the essential information when they need it.

Digital Signatures:

With the ability to digitally sign off on forms, manuals and reports, you will retain a PDF copy with the user, time and date stamp for all the details in the software.

Automated Alerts:

With the ability to communicate updates and changes to the entire business or individual departments, your team will always be accessing the most recent information.

Real-Time Reporting: With detailed analytics and automated reporting, your HR team can keep track of all required follow ups and essentials in real-time.
Will our company data be at risk?
One of the major themes of the responses to the Coronavirus outbreak in many organizations has been a renewed focus on cybersecurity. In the wake of many employees being required to work from home, the adoption of security tools and systems has been greatly accelerated in the last year. ROOK Connect has you covered, storing data in an encrypted format with built-in access rules to permit or prevent access to different types of employee information.
Put ROOK Connect to work for you!
As an effective HR professional, you apply sound judgment, reasoning, negotiation and innovation to address employee needs. To drive strategic initiatives, ROOK Connect can provide you with the tools to leverage your HR mind.
Hiring: Hire people on your terms with ROOK Connect templated processes, offering configurable settings that allow your business to operate the way you want it to, and an implementation team that completely configures the software for you.
Onboarding: With a process for every type of employee and contractor, ROOK Connect comes stacked with configurable forms and templated systems ready to streamline and automate your processes. Get efficient and make onboarding easy.
Training: Ensure your staff have instant access to essential information, keeping them informed and your business operating that way you need it to. Never question if staff have the right information or have been properly trained again with ROOK Connect HR applications.
Compensation: Automate and streamline payroll, compensation, reporting and your entire approval process. Take the guesswork out of your business and ensure you've got the right tracking for transparent compensation reporting and analytics.
ROOK Connect provides the ultimate dashboard for all your employee data. Digitally onboard new hires, securely store employee documents and find critical information in seconds. Gain valuable insights into your company and employees with automatically generated charts, graphs and analytics. Leverage your data to drive organizational improvements. Book a demo today and we'll show you how ROOK Connect can drive your business to the next level.
Contact us today to learn how ROOK Connect can improve and streamline your HR processes!