November 10, 2020 5:09 pm | Category: Delivery, Dispatch, ROOK Connect Software, Supply Chain Management
REDUCE COSTS & INCREASE BUSINESS EFFICIENCY
by: Dulce Herbst-Aylesworth
Operating a supply chain business is hard. Ultimately, there are a lot of behind the scene processes that customers don't have any idea about, such as managing customer orders, planning & timing, procurement, manufacturing & assembly, and so much more! And we are now living in an era where COVID-19 illustrates that many companies are not fully aware of the vulnerability of their supply chain management systems. Are you aware how your organization is responding to the immediate challenge?
Do you know all the products you're delivering? Can you track, report and manage products by weight, count and capacity? Is your software prepared to provide an analytical approach to how your business can be more fluently operated in spite of this world pandemic? Enter ROOK Connect Software.
Our delivery software was designed to accommodate every kind of delivery business. A mobile workforce needs to be planning according to a wide range of challenges and outside impacts. ROOK Connect Software has all the features to coordinate and organize processes, while managing the execution of logistics, warehousing, transport and the delivery of goods from point of origin all the way through to the point of consumption. Some of the capabilities we provide are:
Management of all aspects of your staff, including screening protocols and absences

Planning routes ahead of time and adding them to driver planners daily.

Real-time visibility on all operations.

Receiving confirmation of every delivery, available right at your fingertips.

Drivers can take pictures of the delivery, installation or any conflicts, and add it to the delivery history.

The ability to monitor delivery vehicles in a map in real-time.

Delivery vehicle capacity overview so you and your drivers are always on the same page.
Benefits of Using ROOK Connect
With our software, you get more than just routes and directions. We provide optimized trips and schedules to track where your workforce is, updating and reporting to you in real-time and managing your products by size and vehicle capacity. 
ROOK Connect is always on the road with your staff, providing precise information on the following:
Know every time where every vehicle is on the road with our real-time tracking, and be able to see all estimated times vs. actual delivery times.

Knowing the exact location of your vehicles helps track speeding, excessive stop times and driver's habits.

Built-in route optimizer to determine the most efficient route your driver can take.

Onsite standard operating procedure delivery methods.

Providing customers with the ability to physically watch their order traveling towards them with an estimated delivery time. 

Both the customer and your staff will be able to rate deliveries with our star rating system.

To ensure customer satisfaction, all deliveries require customer sign off, which works as proof of delivery and confirmation that the customer is satisfied with their delivery.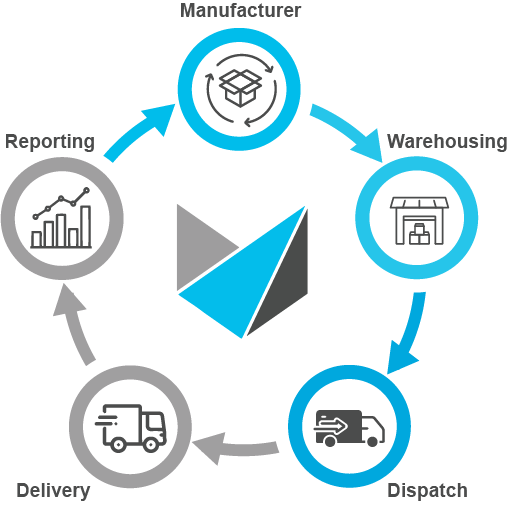 A New Supply Chain Model Featuring ROOK Connect
COVID-19 has definitely made all processes harder to accomplish. Fortunately new supply chain management technologies are emerging to improve transparency and visibility in all aspects of your business. ROOK Connect transforms traditional linear models into digital supply networks that are broken down into the steps of the supply chain scheme. Whether it's an unexpected event like COVID-19, a regulatory change, a sudden spike in demand or supplier challenges, ROOK Connect is ready to deal with the unexpected.