The CRRA's 2022 Annual Awards Gala was held in the evening on June 16th at the Carriage House
Hotel & Conference Centre, and what a delightful affair it was!
This year, there was added flair to enhance the evening and provide a more comfortable and social atmosphere. As soon as attendees entered the event, they were greeted with a stylish ice sculpture, lit with colour-changing lights, highlighting the CRRA's Annual Awards Gala and 2022's Signature Event Partner, Fresh Focus Media. Awards Gala winners and attendees had memories captured by both a photographer and a videographer throughout the evening.
Cocktails were held between two rooms; the anteroom with a bar & cocktail tables, and the Yorkshire Ballroom with lounge seating, along with ample space for the Photo Booth sponsored by 4Rent.ca. This year, the CRRA unveiled the newly designed Awards to the 16 winners. They were made of glass and metal, with a granite base. The grandeur of the new design truly highlighted the honour these Awards gave to their recipients.
ROOK Connect was honoured to receive the Innovation Award, an award which recognizes a CRRA Service Member that has a service, product or process that puts them ahead of the competition. The CRRA recognizes ROOK Connect as a product that changes the way businesses interact with their software. The innovations this provides saves their clients' money and brings their teams together and drives operational success.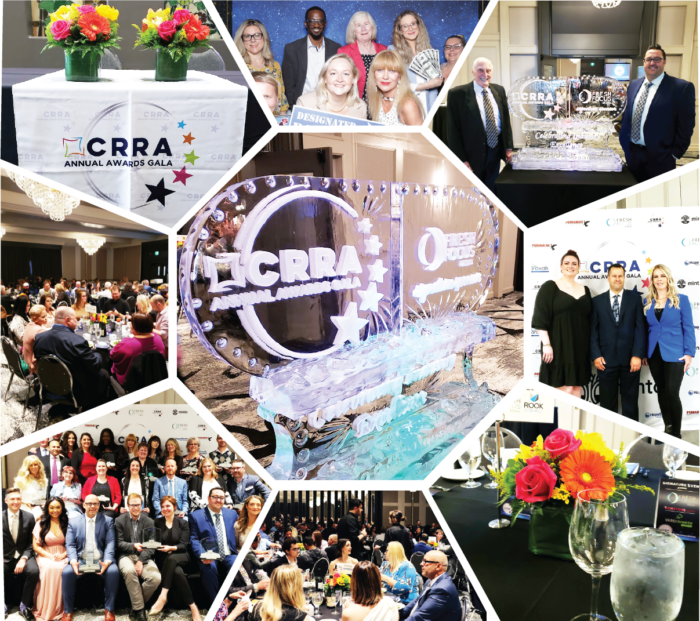 We thank CRRA President Brandon Lord for being our Master of Ceremonies for the event and guiding us through this spectacular evening. Thank you to all of the Gala's Sponsors, with special thanks to the Platinum Sponsor, Minto Properties.
Congratulations to the evening's winners, and to the nominees – because of the work you do, we all have reason to celebrate!